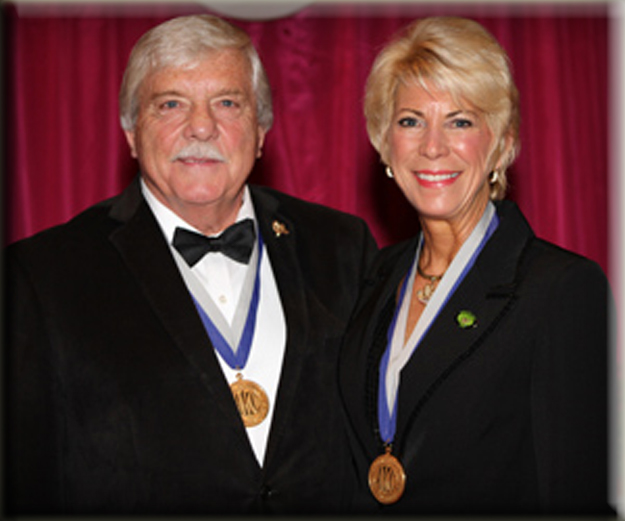 Don & Leslie
ABOUT US
Nestled on a 35 acre wooded estate, just 25 minutes west of downtown Minneapolis, the kennel of Highcroft Collies was established in 1981, by Leslie and her husband Donald Jeszewski. Leslie has been a documented member of the Collie Club of America, and Collie Club of Minnesota since her childhood in 1963, when she began in collies at the young age of twelve years old. Since that time, through their combined efforts, Leslie and Don have either bred or finished AKC championship titles on over 300 collies. The American Kennel Club registered kennel prefix "Highcroft" is now recognized, not only Nationally, but Internationally, as well, by serious collie breeders and fanciers around the world, with Highcroft Collies residing in various parts of countries in Europe, Asia, South America, and Australia.
To date, Leslie and Don have co-owned the #1 Top Winning Rough Collie in CANADA for two years in a row, Am. & Canadian Ch. Highcroft Ultimate Quest, besides having had the #1 Top Winning Rough Collie in the UNITED STATES in 2004, whom owner-handled, not only went Best of Breed at Westminster that year (over 13 rough specials), but also won the Collie Club of America National Specialty Show. That dog's name was Ch. Highcroft Lode-Ark's Legend ROM, four- time CCA Award of Merit winner whose photo was chosen by the parent club, to be the visual representation of the Collie Standard for the newly revised AKC Dog Book. Additionally, one can find a chapter on Highcroft collies under the "Prominent Breeders" section of author Pat Starkweather's book, The Magnificent Collie, Alpine Publications, and also in the 1997 Collie Annual book publication. Leslie herself has authored many articles on raising, training, and showing collies throughout the years for periodicals such as The Collie Review , Collie Expressions, and The Collie Club of America Bulletin.
Highcroft Collies are known for their health and temperament, as well as their adherence to the Collie Standard. Leslie and Don have only a limited number of litters per year, believing in quality vs. quantity, breeding out of passion for the breed, not profit. Any pet puppies resulting from carefully planned litters for the next year's show puppies, are placed only on spay/neuter agreements and the expectation to be registered with the American Kennel Club.
Leslie and Donald take their involvement in collies very seriously. In addition to having many CCA National winners over the years, having had a 38 year career in Education, Leslie, along with her husband Don, besides having hosted various seminars on the Collie for judges, breeders, and exhibitors, have also personally mentored many now successful collie breeders and handlers, as well. Additional involvements, to name a just a few, are being official CCA Judges' Mentors for the breed; longtime members of the Collie Health Foundation (with Leslie currently serving on the Corporate Board ); members of the Collie Club of America Quarter Century Group (Leslie being on the Board of Directors); four-time recipients of the CCA Presidential Award for Breeder of the Year; having had the ALL-TIME TOP WINNING OWNER-HANDLED COLLIE IN THE HISTORY OF THE BREED IN GROUP AND BEST IN SHOW WINS; breeders of the only father/son BIS dogs; and breeders of more All-Breed BEST IN SHOW collies in the history of the breed. Leslie and Don are intensely involved in the betterment of the Collie.